Although Meek Mill has been off house arrest for more than a month now, he still remains on probation, which has been ongoing for over a decade now. Obviously some of this is due to Meek making the bad decision to violate his probation on two different occasions.
The first violation was in 2014, which resulted which resulted in a five month prison stay, and again in 2015, which lead to his 90-day house-arrest sentence.
Through all of that, many people feel like 12 years is more than enough time. This has now escalated to a group of passionate Meek Mill fans taking to the streets of downtown Philly in order to try to get the courts to end the rapper's obligations to the prison system.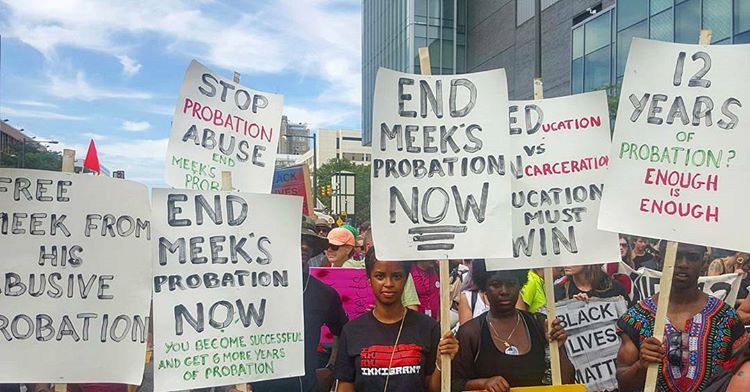 A multitude of Mill supports gathered with signs that read, "End Meek's Probation Now," "12 Years Probation? Enough is Enough" and "Stop Probation Abuse End Meek Mill's Probation."
Karen Civil was on scene to document the rally with photos posted to Twitter of protesters along with the caption, "Meek Mill supporters marched in a rally for injustice to protest Meek Mill's unlawful probation in Philly."
Not sure how effective it was but it's good to see that Meek fans have stayed loyal.
In the meantime, the Dreamchasers MC is actively working on on his upcoming project DC4. According to frequent collaborating producer Jahlil Beats via social media, the project will be arriving in the fall and .
In the meantime, the Dreamchasers MC is actively working on on his upcoming project DC4. Frequent collaborating producer Jahlil Beats recently gave an update on the project on social media saying "Yo, that DC4 is coming in the fall, that s**t is ridiculous. Me and K was just at Meek's house, heard the whole joint. He talking some real s**t on that."
This project will mark the end of an era for Meek as he has vowed not to rap about violence following this tape.