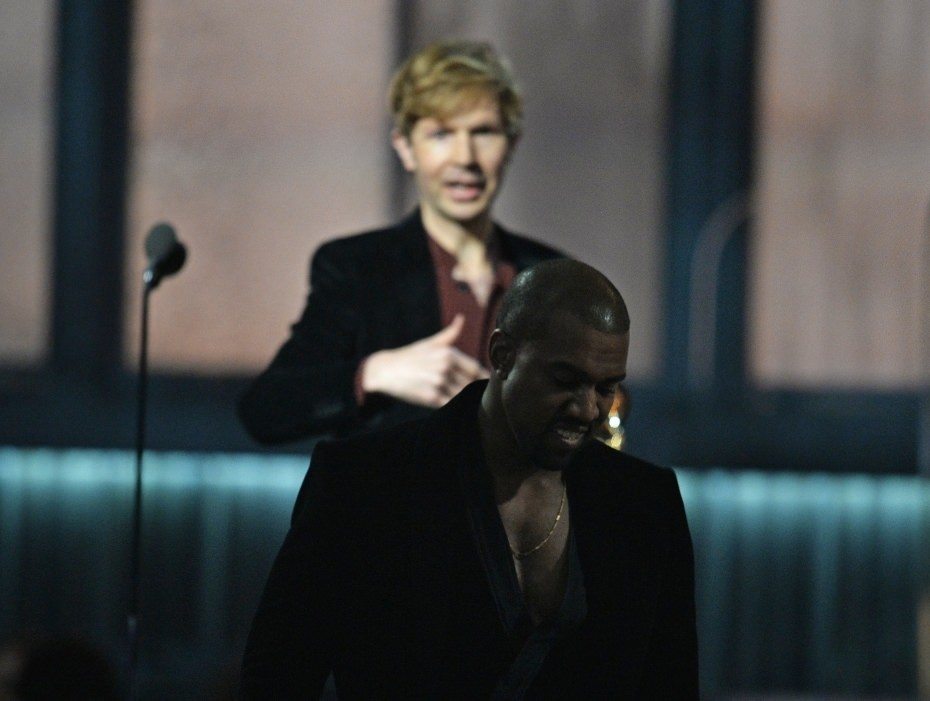 There goes Kanye being Kanye again, he ended up stealing the show once again at the 57th Annual Grammy Awards. Even though he was not even nominated for "Album of the Year," just like he did with Taylor Swift a few years ago, he managed to make his way onto the stage once the winner was announced, he sort of interrupted an excited Beck, who received the prestigious golden Gramophone from Prince.
This time around though he didn't get on the mic but instead he turned back and headed to his seat.
Later, in an interview with E!, Yeezy explained that he feels Beck should have given the award to Beyonce, who, in his opinion, had a better album, and emphasized that NARAS should be more respectful to the Rap categories.
Kanye isn't wrong, this is the second time he felt Beyonce should have won and it's the second time he was right, and yes the NARAS should have more respect for the Rap categories. That being said, the passionate Yeezus needs to have some more subtlety in his approach.
In an after party interview with Us Weekly last night, Beck addressed his strange encounter with Ye and, clarifying he has nothing but love for him.
I was just so excited he was coming up. He deserves to be on stage as much as anybody," Beck said. "How many great records has he put out in the last five years right?… You can't please everybody. I still love him and think he's genius. I aspire to do what he does."
The most interesting detail about this whole situation is that when Beck was asked about his thoughts that Beyonce should have taken the Grammy for "Album of the Year," Beck surprisingly said he agrees with him.
Absolutely. I thought she was going to win. Come on, she's Beyoncé!"
Paparazzi caught up with Kanye & Kim at the JFK airport, and Ye once again stood by his comments about Beck not having the album of the year. He also clarified his artistry comment, and said that he was talking about the Grammys and not Beck himself.
The video is below.