All the dominoes have fallen
All the excitement and suspense boils down to this week's Power Season 2 finale. This season was all about the fall of the union between Tasha and Ghost and the rise of Jamie and Angela's relationship. We came to learn that Angela is a part of the federal team trying to bring down Ghost, the biggest drug dealer in New York City. This is also the season where Kanan makes his comeback from the big house and we see the strained relationship between him and Ghost escalate. At the same time, Ghost loses his grip on his pride and joy, Truth. He was forced to answer to Simmon Stern and is unable to use his club as he sees fit. We finally get to meet Lobos whose New York City run is cut short after he is taken down by the feds.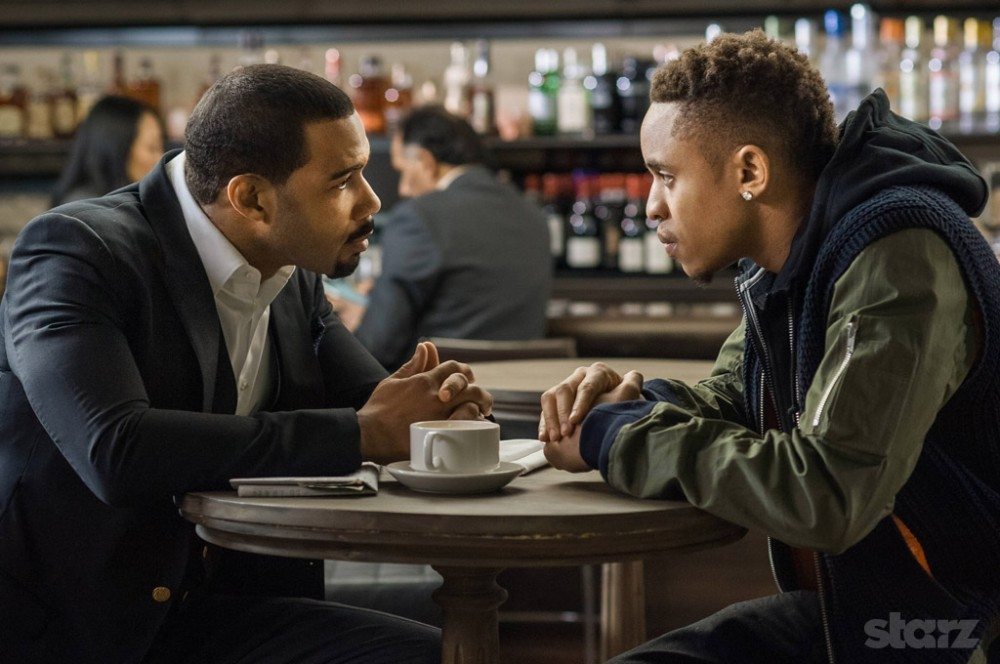 In Season 2, the bromance between Tommy Egan and Ghost is still strong and business is good. However, we see some struggles within those circles as some of Ghost's distributors want him ousted as he has too much power. We get to see Tommy's soft side by the name of Holly, which of course clearly goes wrong. As of the last episode, Tommy has been arrested and released, Angela finds out that her baby love is indeed Ghost and Kanan wants Ghost dead. However, the episode comes to a sad end with Kanan putting a bullet through Shawn's head.
Cutting All Ties
The finale kicks off with Drifty being killed and killer leaves a tarot card on his body and the rollercoaster begins. We find out that Angela is set to face a disciplinary committee after the incomplete sketch debacle that got Tommy released. Ghost meets his lawyer who then suggests to him that if he wants to avoid being summoned over Lobos, he should go off the grid. Tommy is back at Tasha's and they are discussing Tommy's lucky break and she is clearly worried about Shawn. Dre is meeting with Kanan and you can see that he is not pleased with him taking out his son in cold blood.
Tommy meets with Ghost who shares about his unfortunate run-in with Shawn. He also mentions that Kanan is the one who sent him and is looking to control the business and only needed an introduction to Lobos. Ghost gets Tommy to continue connecting with Kanan. Back at the federal office, Greg is questioned about Angela is told that Angela filed a harassment suit against him which gets him suspended.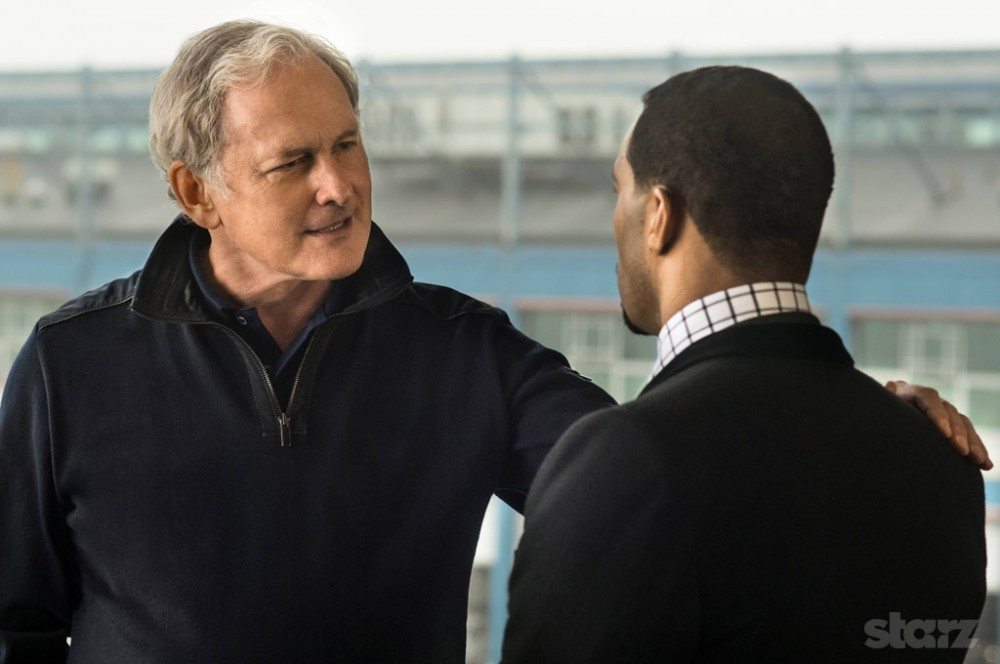 Back at Truth, we see the return of Stern and he is still cornering Ghost about the club. Remember, Cantos's office was ransacked last week and some records are missing and these could be the key to Ghost winning back the club. Tommy goes to see Kanan and convinces him that Ghost set him up during the Lobos bust. Tommy also convinces him that business must continue and Ghost must go down.
Shawn is Dead
Tasha goes to see her ex-husband to talk about a few things, especially about Tommy and Angela. He then reveals that he knew about her relationship with Shawn and that by doing so, she put their family at risk. Ghost tells her that it would be wiser to stay in town and not run off (at this point, none of them know that Shawn is dead). Vladmir is taken out by the same killer who killed Drifty at the beginning of the episode. We notice that the killer takes his victims' cell phones afterwards.
We finally see Lobos after the bust and the feds are suspecting he is behind the killings of his former associates. The feds believe that the Jimenez gang is taking them out and points out that Jamie, Tommy or Lobos himself may be on the list. Lobos does not speak.
Ghost's double cross
Tommy goes to meet Ghost and tells him that Kanan believes he will take out Ghost. It is at this point that Tommy finds out that Ghost did not kill the lady in Miami. At the same time Ghost tells him that he knows that Holly talked to the feds. Tommy promises to get Kanan to the spot, but it turns out they are being watched. Meanwhile, Stern and his wife are in a settlement meeting with their lawyers and his embezzlement schemes come to light. We find that Ghost is outside waiting on that meeting to end. Stern's wife signs Truth and 2 other clubs back to Ghost.
Jamie goes to see Angela and she is not keen on speaking to him. Angela shares with him that she would have sold him out to the feds but she chose not to for the sake of his children. Angela believes that Isabel Ruiz will testify at her hearing and her career will be over.
Tommy bumps into Holly and she tells him that Ghost ran her out of town and gave her a new identity. She leaves but not before saying that she loves him. At Truth, Dre goes to see Ghost and is greeted with a gun at the back of his head. He confesses to Ghost that Shawn is dead and he is the one that disposed of him. He believes that Kanan has lost his marbles and wants to work with Ghost. We see him talking to Kanan telling him that Ghost has bought his story. A text comes to Dre from Vladmir' about a meet up.
Ghost saves Angela
Meanwhile, Ghost goes to see Ruiz and tells him that they both need to take their families and go into hiding. Back in prison, Lobos is stabbed and at the same time, it is Angela's bar hearing. Isabel is a no-show at the hearing after which she finds out that Ruiz and his family had jetted off to California and went off the grid. She is now trying to reach Jamie.
We see Kanan get to what we believe is the spot' that has been mentioned multiple times already. He is looking for Tommy but it is Ghost who shows up. He questions Kanan about killing Shawn and they end up in a big fight. As Kanan is trying to kill him, Ghost stabs him and sets the spot on fire. He meets up with Tommy and is angry that he did not show up.
Ghost vs Tommy
Tommy tells him that he was hanging out with Holly. He tells Ghost that he will buy him out and take over the business. Ghost tells him that he was the one that took out Drifty, Vladmir and Lobos and also ran Ruiz out of town. He maintains that they were all traitors and deserved to die. Tommy pulls a gun on Ghost and lets him know that he has betrayed him and he has never stopped being a thug. At that point, Dre pulls a gun on Tommy who leaves disappointed in his brother and friend Ghost.
Angela goes to see Jamie and questions how he is the last one standing and why she still loves him even after everything that has happened. Ghost tells her that Ghost is dead'. Jamie leaves and Greg confronts her. He tells her that she is an amazing lawyer and built a case against him based on lies. He is livid that she sold him out for Ghost/Jamie. Meanwhile, Shawn has been found and Tasha positively identifies him and also believes she knows who took him out.
Over at Jamie's office at Truth, Ghost finds a bloodied tarot card (like the one he placed on his former associates after killing them). Tasha tries reaching Tommy who is reconnecting with Holly. We find out that one of the feds is working with Lobos (who survived the attack). He is given a phone to make a call and we see Tommy at the park where a man accosts him and gives him a phone.
Turns out that Lobos has called Tommy and says that he wants to work with him. The only condition is that he kills Ghost, failure to which Lobos will kill Holly and their dog. Ghost goes to see Angela and they both believe that everything is ok. At the spot where Ghost killed Kanan, there are investigators looking into the fire. It is noted that a door that was locked has been broken from the inside (like someone was trying to get out). This could mean that Kanan made it out.
What can we look forward to in Season 3?
Greg's revenge mission against Angela, Tommy against Ghost, Kanan (maybe) against Ghost and Lobos against Ghost. Basically, everyone is out for Ghost but we will have to wait and see how it pans out.